now, as you could probably tell form the title of this post, the first trend (although the order is only based on which posts i wanted to do first, not importance, or anything) of spring 2009 is...
sheer-ousity!
that's a good word, isn't it? and don't tell me it's not a word. say it out loud and tell me it's not a real word. it reminds me of the disney version of alice in wonderland, where she's going down the rabbit hole as says, "now dinah, remember, curiosity often leads to trouble...ouble...ouble..." (as she falls down the rabbit hole.) sheer-ousity often leads to trouble too, unless also paired with something more opaque, if you know what i mean. ;)
but anyway, i think it's perfect for spring, it being all floaty and everything.
obligatory runway pics: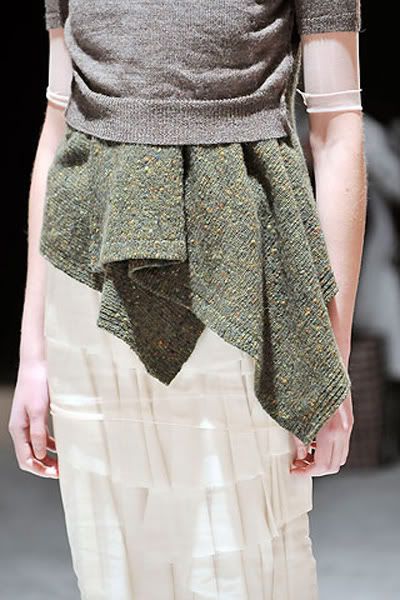 image courtesy of flying saucer... and sea of shoes (it's comme des garcons, btw)...


sea of shoes again, isn't her outfit just lovely?
image courtesy of already pretty... and this picture is a hint for another trend coming up... it's not thigh highs, can anyone guess what it is??...
(as for the bad pun of a title-i'm sorry, i just couldn't help myself. :))